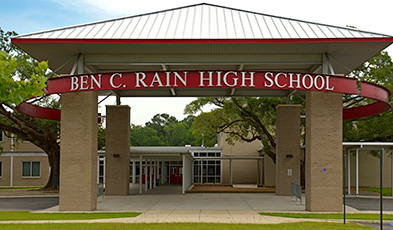 Ben C. Rain High School History
On September 4, 1963, in the southern suburban region of county, the doors of the Ben C. Rain High School opened to admit approximately 1, 200 junior and senior high school students. This was the day that many of the students had awaited eagerly, and at times impatiently, for four long years. Though the building itself was new, the school was actually four years old on that September day.
To meet the needs of fast-growing South Mobile, Rain High School was organized in 1959 and was housed in temporary quarters in the Old Robert E. Lee School on Madison Street where Rain's seventh and eighth grade students were transported by public school buses. On grade was added to the school each year. Thus, the first senior class of approximately 114 students graduated in May of 1964.
Located on 22-acre tract of land on Dauphin Island Parkway, the long-awaited new building was designed by Harry Inge Johnstone and built by J. F. Pate Construction Company at a cost of $1,500,000. Financing was by state bond issue.
B. C. Rain High School is accredited by the Southern Association of Colleges and Schools.
We will prepare responsible citizens who are self-directed toward productive goals and capable of adapting to a global society. This will be accomplished by providing a competent creative staff and a challenging, relevant curriculum in an environment conducive to learning.
ALMA MATER

As men of old have done their share,
to make Mobile today;
The sons and grandsons of these men
Make up the "Red and Gray."
We follow their example,
And treasure their great fame;
A noble man is honored here
our namesake, Ben C. Rain.
As time goes by dear Alma Mater,
This will be our aim;
To live and strive to do our best,
To honor thy fair name.
Stepping Stone to a Bright Future